I have a lot of updating to do. I've missed everyone so much. Life still seems to be giving me lemons. I decided it was time to start updating again.
Here are the pictures I promised to post from my weekend getaway with my mom.
The first night we stayed in a hotel (not worth taking pictures) The second night we ended up renting this cute little cabin.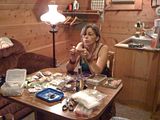 It was just great spending time with my mom. I would have been happy to just stay indoors all weekend.. It was soooo hot!
I had never been to Helen, GA so we drove up there... its like Panama City Beach without the beach... I'm just not a fan of the crowds. I felt so sorry for the horses pulling people around the horrible traffic.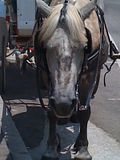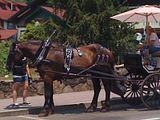 There weren't a lot of thrift stores up there. Most of the ones we did go to were overpriced. I did manage to find a few things in my price range.
I forgot to take pictures until I had already taken everything apart in the cabin.
I'll try to keep my blog more up to date from now on..