I made a bunch of miniature holly for wreaths.
I created a couple different style miniature ornaments for gifts this year.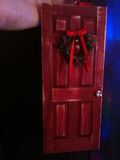 I found a bunch of these 6 panel door kits at Ernie's Attic back in October. I knew I wanted to incorporate them into christmas gifts but I wasn't sure exactly how until about a week before Christmas.
I made the door knobs out of plain flat top bead caps and some antique rhinstones from my grandmother.
I wrapped a lot of minature gifts for these Christmas balls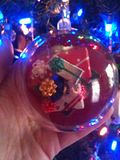 This isn't mini but I had to share a photo. This is my brother's house.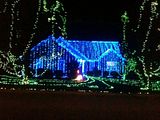 He was featured on the MSN homepage on Christmas as one of the top light displays to visit.