I became an AUNT December 5, 2011. He was 23 days late and weighed 9 lbs 10 oz.
I'm so excited but I haven't had the chance to meet him yet. My brother and his fiance' live in Oregon.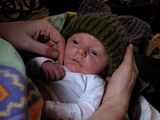 Isn't he adorable?
We also welcomed another furbaby into our home on the same day my nephew was born.
This is Deuce.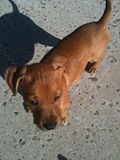 Somebody left him in the parking lot of the store where a friend works.