After looking at the pictures of all my tiny seashells I decided it was time to finish sifting thru the sand I still have left. Last night I started with my most recent cup of sand. My boyfriend went to Panama City Beach back in October and brought me home a big cup of sand. (Its so easy to get gifts for me) We all went to Florida over the summer but it was such a long walk to the beach to our condo that I decided not to lug it back with me. The rest of the sand I still had to sift thru was left from the summer of 2007. We were right on the beach so I brought home a lot of sand. The best place collect sand to find these tiny shells is right in the surf. We brought home a bottle from the sand bar because that was the finest sand I've ever felt before and I thought I would find hundreds of tiny shells but there weren't any.
So last night after getting my car stuck in the mud in our yard, I poured my cup of sand in a clear plastic shoebox and added water. I've found the best tecnique for finding shells is to stir the sand a few times and watch for the slight bobbing motion of shells.
The clear spot in the sand is where I'm searching.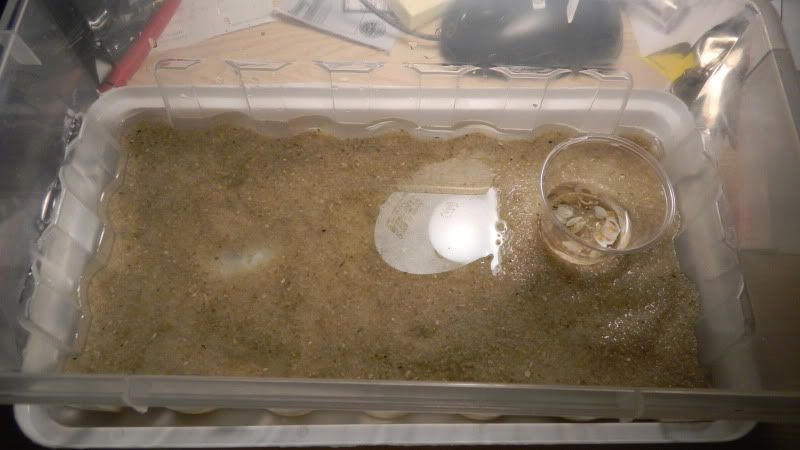 I only put the coquinas in the cup for a size reference. They will be added to my other oversized shell collection.
I've organized my mini shell collection based on size and type of shell. I'm not sure why I've separated them all out.
Thanks to all my blog followers. I still can't believe people are actually reading this. I can't stop finding new blogs to follow. I'm addicted