Saturday morning I woke up early with a bad case of heartburn. I took some Tums and decided to start my day. I sent my friend a text message to see if she was still going with me. I rode around town to look for yard sales while I waited on her to let me know something. After not hearing from her for over an hour I figured she had over slept and I headed towards Cedartown alone. I passed by a yard sale in the middle of a field since the grass was so wet I didn't want to walk around with wet shoes all day. I went by the first Flea Market on West Ave only to discover it didn't open until 10. I decided to drive to one I'd never been to about 5 miles past that one close to the Alabama state line. I pulled up to an old school where only one car was parked outside. One lady was managing an entire school full of stuff.
Everything was over priced and nothing really caught my eye.
The first room you walk into is the old gym it was packed full of stuff like an episode of hoarders. you could only look at the stuff in the front section.
There was this little room with a strange smell filled with junk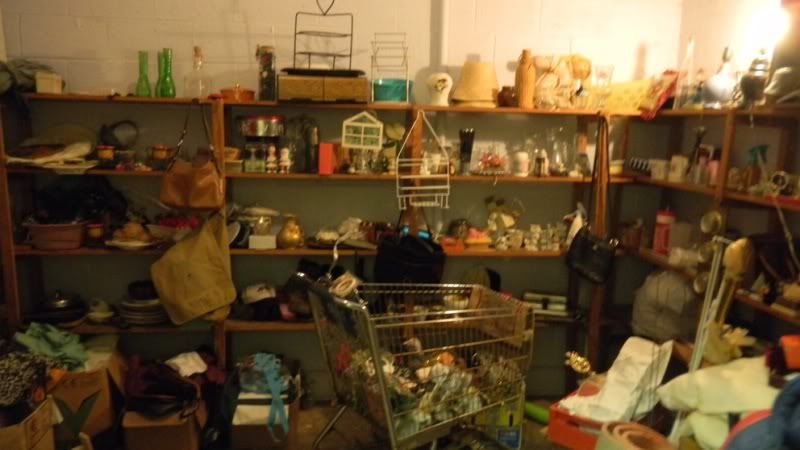 I ended up not buying anything.
I went back to the other side of town to another old elementary school. I had been to this place 10 years ago I bought a huge portfolio for my artwork for $2 back then. But everything looked almost exactly the same as it did then except the prices.
The old sewing machine was really neat but for $90 it didn't even turn and I don't think all the parts were there.
I wouldn't have wanted to go to school here as a child this is just too creepy..lol
I walked thru the whole building a couple of times just trying to find something so I didn't walk away empty handed but I couldn't find anything worth buying.
Come back for more tomorrow. I haven't even taken pictures of my finds yet.