I finally figured out how to show all steps in making a pipe cleaner bear.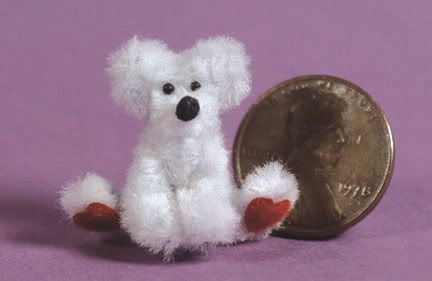 Here are the pieces you need. The plain wire is just to show the bends. For larger images just click on the pictures.
First take the 3" body piece and fold in half. The fold is the nose.
Using needle nose pliers fold in this shape for the head.
Next fold to make the bear's rump.
For the legs take the 2" piece and fold like this
Insert legs in the fold of the rump.
For the arms take the 1.5" piece and fold like this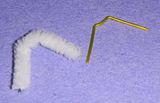 Insert arms into upper body and squeeze body closed tightly.
For the ears fold the 1" piece like this
Tighten the curl of the ears to hold in place once on head.
Roll the ends of the hands and feet to desired size and bend at the ankles.
All that's left now is to give him a face. Use one thread of embroidery floss to create a nose. Fold thread in half and knot.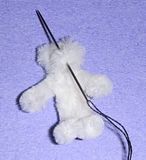 After wrapping thread around wire the desired number of times slip needle under threads to secure and trim of excess.
Use no-hole glass beads for his eyes and glue in with tacky glue.
To make other animals just alter the length of the ears and add tails.
Be sure to use fluffy pipe cleaners so the wire doesn't show thru the fur. Glue on paw pads if desired. I punch mine out of fuzzy ribbons.